It's just not the time to hunker down in Tarry and study forever yet. We just finished our second week out of 6 for this unit on musculoskeletal/head/neck. For the past two weeks, we learned all about your extremities, arm, elbow, forearm, hand, thigh, knee, leg, ankle, foot, on and on and on. This means practically everyday is spent in the anatomy lab learning all the 9923820180 parts. Brain overload.
Anyways, my weekly trips to Trader Joe's have involved me experimenting with the glorious food they have at the store. I have to fill a quota of one new item I have never tried to see expand my food choices. So far it has been amazingly delicious and successful.
Some examples (too bad i don't have much pictures):
1) Frozen tuna marinated in olive oils, lemon, garlic and other spice goodies.
Result: DELICIOUS. And so easy to make. Take the frozen fish, (defrosting it makes it drier) cook it on medium low heat for 10 minutes and each side, until it browns to a beautiful caramel color. Serve with rice and green beans, and full meal. SO GOOD.
2) Red Panang Tuna Curry Sauce.
Result: Man I was surprised how good this was. Just microwave half a packet and serve over rice, and there is a full meal right there. Love the spicy coconut sauce. And only $1.50 a packet! CHEAP AND DELICIOUS.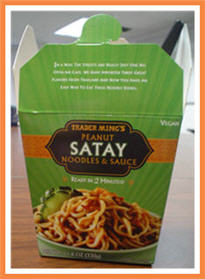 3) Trader Ming's Peanut Satay (Vegan!)
oh man. $1.99 a carton. No refrigeration necessary. Plus all you do is microwave and a full meal is right in front of you. This
site
gave it an awful review, but I actually love this stuff. Perfect for those days when you're studying in Tarry and you don't want to leave to grab a meal, which is exactly what I'm doing right now. It is a little greasy at the end, but still a quick and yummy meal.
4) Grilled chicken with lime
Pregrilled chicken where you just place over salads or add to meals that need some more protein (ie. the peanut satay above). Amy suggested this to me where it's easy to get your protein in when you want to grab a quick salad with meat. And man, ths $4.99 pack of chicken lasts FOREVER. You only use like 3-4 strips per salad, so it last a long time. Again, quick, cheap (due to the amount of food) tasty and so awesome.
5)Blu Italy with lime sparkling water
I HATE Perrier. I HATE San Pellegrino. Before I had this sparkling water, I abhored all sparkling mineral waters. It all tasted gross and salty to my palate. DISGUSTING. But when I saw these beautiful blue bottles on the shelf, I had to get one. Duh, if it's pretty, I must purchase. And I was so surprised with this water. You can drink it alone with the meal. Or add it with OJ and make your homemade Orangina. Perfect!
6) Veggie Corn Dogs
Now, now, I LOVEEEE corn dogs. The real ones for sure. I love microwaving it for 30 sec and then putting it in the toaster oven for a minute or two to brown to the perfect amount of crispiness. I was REALLY skeptical when Matt suggested the veggie corn dogs. I hate fake meat. It tries to be all real, but it can never be. But wait, this corn dog actually is REALLY GOOD. It has become one of my regulars to add to my cart each week. It's that good. I'm sure they lace it with crack or something.
I'll definitely put up more of my favorites online. Go to Trader Joe's! Get some good food!
Some highlights of what has happened in the past uh... 6 weeks? I thank Amy for most of these pictures.
Jean and I at the Body Worlds opening:
Kida's Farewell dinner:
Post Test Party Goodness:
Post Test Tradition with Dim Sum:
Being classy with high tea at the Intercontinental Hotel:
Vajayjay Monologues After Party:
Overindulging at Ethel's Chocolate Bar in Armitage:
MED SCHOOL PROM IS TONIGHT! WOOHOOOOOO! CAN'T WAIT!