I guess an update is in order since I haven't done it for awhile.
New Year's Day. :-(. Left California for Chicago. Teary-eyed, I said bye to my parents and flew off for another grueling semester of med school. Fun! It was good to be at home, but it was too cold. For some reason, houses in San Jose aren't insulated which makes outdoor temperature = indoor temperature = 40 degrees = ICE COLD. It's good to be back to my apartment where it is warm and cozy, even without turning on the heat.
Anyways, the Southwest flight over was awesome. Since it was New Year's Day, free beer/wine/cocktails were given out. Woohoo! Saved my drink coupons. But I don't think I'll get another bloody mary on an airplane... I prefer the mix.
While waiting for my luggage, I ran in to Jessica Eng (Mark's high school friend) and Jen! Dan drove us home and we all went out for dinner. Which calls up for the first round of NURD. I recommended we go out to eat at
Bijan's Bistro
on the corner of State and Erie. I've been meaning to go to this place because Jiyeon recommended it to me. The place is open 365 days a year, and closes everyday at 4am. CRAZY huh? The food is amazing too, taste-wise and price-wise. I got their shrimp BLT. Delicious. One of my favorite places to go now.
The next day, school started. URGH. This unit is cardiovascular-respiratory-renal, which is basically physfound 1+2 (Hopkins junior year BME hell classes) again, but a lot less stressful. BUT still as hard. I'm glad physfound is paying off in some way... PUHAHAHA. Look what I found as a definition in the
JHU Newsletter
: "
Phys. Found. = Physiological Foundations. Every junior BME and premed has to take it. Though it's rumored to be the hardest undergraduate course in the nation, we still wish the BMEs would stop bitching.
"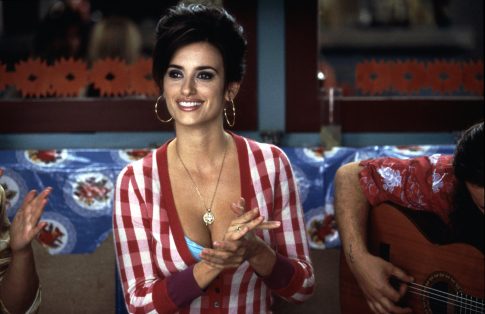 Hmm... fun things to recommend. Oh yeah! I totally forgot to write about this. GO WATCH VOLVER! Chethana and I caught up on life and watched this amazing movie. Penelope Cruz really was a gem in this movie. I love Almodovar movies. I didn't expect the movie to deal with such dark and twisted issues of death, unexpected life, and abuse, but that's Almodovar! I hope she wins an Oscar for this. I'm sure she won't, but man she was so good, especially when she sang flamenco to her daughter. It had me in tears. GO WATCH IT! I would go watch it again, to catch all the subtle details.
Another movie to recommend? oh yeah. Michelle, Amy and I saw DREAMGIRLS! I just have to scream. AHHHHHHHHHH SO FREAKIN GOOD! I had high expectations for Jennifer Hudson's performance (acting and singing) in the film, and she fulfilled them. My jaw just dropped whenever Jennifer was singing in the film. Especially for "And I'm Telling You..." I love musicals, and this one reminded so much of Chicago. Like a 2 hour music video, the first half of the movie was constant singing/music/camera movement.
Definitely don't like Beyonce stealing the limelight from Jennifer, because she was obviously the SUPPORTING role. Jennifer deserves to be in the best actress category! The Knowles family is EVIL. I'm sure they added the "Listen" song at the end, just so Beyonce could have her own solo in the film. Anyways, besides all the drama and negative press this movie is receiving, go watch it!
I saw Blue Man Group too! Phi Rho organized this couple months ago, but I'm so glad I signed up finally at the last moment. I didn't know what to expect from the show. All I knew about the show was that it was similar to Stomp, where it was a percussion show with men in blue makeup. And Tobias from Arrested Development was part of the Blue Man Group in Arrested Development!
But it was better than I expected it to be! Their music was awesome, and it was a great show. It was hilarious when they picked people from the audience, and made fun of people if they came late to their seats. Plus we sat in the poncho section (aka the first two rows). I'm glad that I didn't get splattered with mushed up bananas like Joe did. Liz, Jiyeon and I were hiding behind our ponchos to prevent anything like that from happening.
Throughout the entire two hours, Jiyeon couldn't stop talking about how hot this one blue man was. I gotta hand it to her. He was pretty hot. STRONG profile. I'm glad she got a picture with him. I prefered the guy Kevin is standing with. It was cool to see how the blue stuff stayed on them. It seemed like they wore saran wrap around their heads, so they don't have to cover their entire head with the blue grease paint. Shudders. I'm going to get nightmares.
Lise has been planning a Tapas trip for a couple months now, and we finally got to go yesterday. Nine of us went over to
Tapas Gitana
, which is where Lise worked last summer, and had been raving how good their tapas is. I was skeptical, because
Cafe Iberico
is pretty good tapas. But man. I was blown away by how amazing the tapas was. Every single item was definitely better than the Cafe Iberico equivalent. Too bad it's all the way in Northfield (further north than Evanston!) because I would come more often. Completely fell in love with their Gambas Marinadas (cold shrimp with three sauces), Tortilla Española, Montaditos de Cerdo (pork medallions on top of sweet caramel onions and croutons). That last one was my favorite and my mouth is salivating just thinking about it. So good! I wanna go back.
Been going to the gym dailiy now, and this morning, Nancy coerced me into finally taking one of the kickboxing classes at Holmes Place with Master Kidd. I should ask him why he is named that. I'm sure he'll just beat me up. Man, do I SUCK at boxing. If I ever need to defend myself, I will just concede defeat. I need to learn all the choreographed footwork, because there is so much going on. But it was such a workout! So much more so than spinning, since you're using both upper and lower body. I'm totally sore. Wow, this was really long. The excitement of being back in Chicago should settle down now, since we're getting into the thick of things. Off to Matt's birthday party. Happy birthday to him!