Today I FINALLY met up with Dan from Hopkins. FINALLY. Haha, I thought I would see him pretty often because we do live like 3 blocks from each other. Or at least bump into him sometime. Both our schedules are busy and pretty hard to run into, especially for him, who has really long days.
Last week, I had the urge to have lunch with him over the weekend. Haha, but he contacted me first so even better. And we both had a mutual friend, Rebecca! So we all went out to go eat some food. I really had a craving for some Korean food, so we went out for that. It's a shame that downtown Chicago has no Korean restaurants. The closest ones are like 30 minute drive away. Sadness.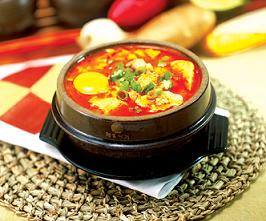 He drove us up to Lincoln Park to Chosun Ok, which apparently is one of the best Korean places. It reminded me of places back home. Pretty small restaurants, with Korean ladies serving while a TV is playing on the wall with Korean programming. But what makes this place great is the cheapness. I had soondoobu for $7 for a bowl double to size of a normal portion. Grade: B for the food, but factor in the price, grade: B+.
It was really good to meet Dan though. All these Hopkins kids are doing so well in life and it just makes me so happy. Hopefully, we've learned/grown/matured a lot in our undergraduate life, and it's cool to see everyone in the next "chapter" in people's lives. For Dan, it's working at Sears Tower and commuting long hours. It makes you realize how hard people have to work to earn a living. But I guess this is what we all strive for right?
Susie and Steven are in town because Miss Susie here is running the marathon. Yup, all 26.2 miles. Hopefully, I'll run into Steven and Susie's parents tomorrow in town so I can cheer on with them.
Thanks to Michelle, you should watch this. This is so bizarre. But I'm sort of jealous. I want a jar too!